Full Manufacturing Process Software
SOFTWARE DOWNLOADS

Unisoft — Manufacturing software since 1985
Test drive today! — Click the links below to download the software products you are interested in.
Call 203-913-0782 for details.
CELLS WORKFLOW Product Tracking MES - CELLS WORKFLOW Product Tracking MES is a full Manufacturing Process Control Software System. Track product, inventory tracking software, defect tracking software, data collection, document delivery & control and Statistical Process Control (SPC) quality reporting.




- ProntoVIEW-MARKUP displays the PC Board, creates process assembly instruction documents, first article inspection, assembly and parts cost estimation reports to aid job quotations, repair/rework, technician troubleshooting, quickly find components, pins, shorts between traces, hyperlinked schematic and assembly, etc.




- ProntoPLACE will quickly program your surface mount SMT and thru-hole assembly equipment. Universal, Fuji, Mydata / Mycronic, Siemens, Panasonic, Assembleon / Philips, Contact Systems (CS400, etc.), Camelot, Quad assembly and others are supported. Also create create work and assembly instructions, etc.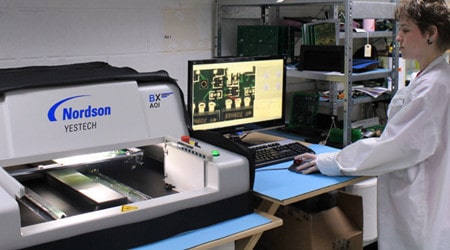 ProntoAOI - ProntoAOI used by electronics manufacturers will quickly program your Automatic Optical Inspection (AOI) machines. Program most popular AOI Equipment such as Yes Tech, Omron, Quad, etc.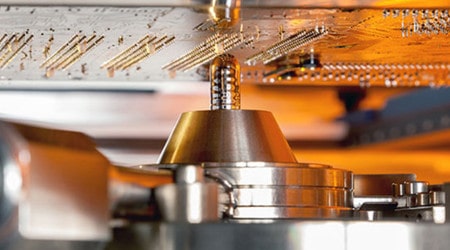 ProntoSELECTIVE-SOLDERING - ProntoSELECTIVE-SOLDERING used by electronics manufacturers will quickly program your Selective Soldering machines. Program most popular Selective Soldering Equipment such as ACE Production Technologies, RPS Automation, Vitronics Soltec, APS NOVASTAR, Pillarhouse Soldering Systems, etc.
toTEST-FIXTURE - ProntoTEST-FIXTURE will accurately setup your Automatic Test Equipment (ATE), Flying Probe and design your "bed of nails" test fixturing.
ProntoGERBER CONNECTION - If you have only Gerber data files to work with then ProntoGERBER-CONNECTION can help you! ProntoGERBER CONNECTION imports raw Gerber data and allows the user to add intelligent information to the shapes on the display. This smart data is then used directly by the other Unisoft OneFACTORY software modules or export to standard ASCII file formats for use by other manufacturing systems.
TRANSLATION SERVICES - UniSOFT offers in-house CAD and GERBER translation services. We translate your CAD, Gerber and BOM files into formats used to setup your manufacturing equipment. Also CAD to CAD conversions services.

- CAD or GERBER to SMT Assembly Machine setup
- CAD or GERBER to

AOI Inspection Equipment

setup
- CAD or GERBER to ATE Test & Fixture setup
- CAD or GERBER to standard flat file (gerber conversion - gerber to netlist, X/Y, etc.)

- CAD to CAD conversions

Download Unisoft OneFACTORY literature in Adobe PDF format.
Send mail to web_master_@UniSOFT-cim.com with questions or comments about this web site.
Copyright Unisoft 2004