Full Manufacturing Process Software
About Us
Company Snapshot
Unisoft has over 30 years of focused research in the science of manufacturing. Our shop floor automation software is installed worldwide in companies large and small in industries such as electronics, medical, chemicals, aerospace, pharmaceuticals, foods, textiles, etc. All our software products have rich functionality and have undergone continuous enrichment as a result of our close working relationships with our customers and equipment manufacturers.
Product History
1985 — Unisoft is established to create software tools to automate electronic manufacturing.

1987 — CircuitMaster TEST is introduced to quickly generate Test Programs for ATE (Automatic Test Equipment). CircuitMaster TEST software has become an industry standard for Test Engineers around the globe. The TEST series continues to grow to support new ATE models.

1988 — CircuitMaster CAD CONNECT released. The advent of E-CAD systems to design and layout printed circuit led to the need for CAD CONNECT. CAD CONNECT utilizes the vast source of information found in CAD data to automate the manufacturing process. Today CAD CONNECT continues to expand as CAD systems are created and revised. CAD CONNECT as grown to include many other standards and document formats.

1991 — CircuitMaster FIXTURE sets the standard on resolving the problems in designing and fabricating test fixtures brought on as a result of surface mount technology (SMT). Prior to SMT creating a test fixture "Bed of Nails" to interface with a PCB assembly / PCBA under test was an easy task, SMT however change this by creating no test probe access, probe spacing constraints, etc. FIXTURE became the first of its kind to detect and resolve these problems quickly.

1992 — ProntoREPAIR becomes the first integrated repair loop software. ProntoREPAIR acted as the missing link between finding the problem and physically repairing it.

1993 — PatGen, the first of the ProntoPLACE series, is released. With the increased density of electronic components brought on by surface mount technology, the programming of automatic assembly equipment was no longer a simple task. PatGen opened up the way to quickly program and optimize assembly equipment. The ProntoPLACE series continues to grow to support new models in the continuing evolution of assembly equipment such as Universal, Fuji, Mydata / Mycronic, Siemens, Panasonic, Sony, Assembleon / Philips, Contact Systems, Camelot and Quad assembly.

1995 — Board Control is released as critical tracking software. Board Control brings the ability to identify the location of product on the production floor and deliver graphics on demand.

1995 — A full factory automation project gets under way. With the advent of Microsoft Windows becoming a standard, Unisoft allies with this powerful platform and the forthcoming Internet technology. This multi-year project captures the essence of leading-edge technology and standards.

1997 — ProntoVIEW for displaying PC Board assemblies is released. Featuring an active vs. passive display the viewer becomes the standard in automating everyday tasks on the production floor and creating enhanced communication internally and with vendors.

1997 — ProntoMARKUP is introduced and creates an automated standard to present process documentation and the assembly instruction sheets associated with building a product.

1999 — CELLS WORKFLOW Product Tracking MES becomes the first PDM/MES system specialized for electronic manufacturing. CELLS WORKFLOW Product Tracking MES utilizes leading edge Windows-based technology such as ODBC, Intranet/Internet via MS Explorer browser, ActiveX automation, etc. to track product, deliver documents, collect data and fault proof the assembly process.

2000 and beyond — Unisoft's "Full Manufacturing Process Software" continues to grow and provides new and more efficient ways of manufacturing. We continually add support for new production equipment, CAD systems, etc. We constantly create and refine the tools you need for process tracking and quality reporting. On the forefront of technology the Unisoft OneFACTORY suite has become the Microsoft Office of the factory floor. Unisoft OneFACTORY continues to expand to bring you the best in leading edge automation.
More about Unisoft Corporation
Since its founding in 1985 Unisoft has maintained a conservative management philosophy, continually reinvesting in technology development to fuel growth.
Unisoft has developed a large customer list and its testimonials include Fortune 500 and Early Adaptor companies.
Unisoft is positioned to capitalize on pent up demand in the emerging shop floor automation and integration market.
Among Unisoft's investor group is Connecticut Innovations Inc.
---
Free PCB assembly / PCBA CAD Viewer &
Gerber Viewer Software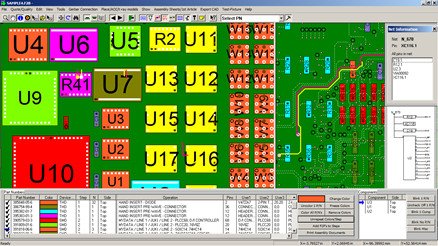 ---